Check out our newest feature. Music fans now have a resource to find what the latest CD release dates are. We allow you the user to submit CDs based on your own interest so our list of new CD releases' is a great place to discover new bands and share upcoming CD release from your favorite bands. Never say you didn't know so-and-so had a new album out because you now have a great resource. See what CD releases are coming up.

Welcome to Baileyswalk, a site by Pixies fans for Pixies fans. A source for Pixies news, tour information, discography, biography, setlists, merchandise and more...


The Reunion Tour Of The Year Has Come To DVD
PIXIES SELL OUT
Live -In-Concert DVD Set For October 4th Release
SPIN magazine called it "2004's Comeback of the Year," eBay auctioned single tickets for hundreds of dollars, and the media fell all over themselves with praise for what devotees bet their bottom dollar would never happen - the Pixies' reunion tour. If you didn't make it to one of the Pixies' reunion dates, well then, you're going to be able to take the Pixies home with you.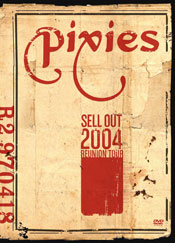 This October 4th, Rhino Home Video will release "Pixies Sell Out," an all- performance DVD culled from seven different Pixies reunion concerts held in 2004. The main part of the program is from the band's concert in Belfort, France (July 3) and features 27 classic Pixies songs including "Here Comes Your Man," "Monkey Gone to Heaven," "Bone Machine," "Where Is My Mind," and "Gigantic." The DVD's bonus material offers additional performances from concerts in the United States (Coachella/May 1, Lowell/December 1, Austin City Limits Festival/September 18, and New Orleans' Voodoo Festival/October 16), Japan (Fuji Rock Festival/July 30), England (the Move Festival/July 10) and Scotland (T In The Park/July 11).
Pixies - Frank Black/vocals, guitar; Joey Santiago/guitar; Kim Deal/bass; and David Lovering/drums - kicked off their reunion tour on April 13, 2004, at the Fine Line Music Cafe in Minneapolis, MN, and over the ensuing eight months shattered sales records around the world. The following May 1, Pixies co-headlined the Coachella Valley Festival and created pure magic in the hot desert for 50,000 fans ("The day belonged to the Pixies" said the New York Times). Pixies went on to sell out a record-setting four consecutive nights at Chicago's Aragon Ballroom, 19,000 tickets for their four-night London run were gone in less than two hours, and the band capped off 2004 with an unprecedented eight-night stand at New York's Hammerstein Ballroom.
The Pixies formed in Boston in 1986 when Charles Thompson dropped out of college and convinced his friend and roommate, Joey Santiago, to do the same. The two recruited bassist Kim Deal, who suggested drummer David Lovering join the group, and the lineup was official. Thompson adopted the stage name Black Francis and the group named themselves the Pixies after flipping through a dictionary. The Pixies quickly gained a cult following as well as critical acclaim for their signature blend of screaming punk noise, indie guitar rock, classic pop, and surf-rock riffs mixed with impossible-to-ignore melodic hooks and Francis' bizarre lyrics about religion, UFOs, and metaphysics.
During their six years together, the Pixies released five albums on the 4AD label - Come on Pilgrim (1987); Surfer Rosa (1988); Doolittle (1989); Bossanova (1990), and Trompe Le Monde (1991). Experiencing particular success in the U.K. and Europe, the Pixies played sold-out festivals and received a multitude of fan, peer and critical acclaim, the U.K.'s NME named Doolittle the "Second Best Album Ever." The band's influence was far-reaching; U2's Bono referred to the Pixies as "one of America's greatest bands ever;" David Bowie called their work "just about the most compelling music of the entire '80s," and Kurt Cobain, who identified Surfer Rosa as his favorite album of that entire decade, confessed, when writing "Smells Like Teen Spirit," that, "Basically, I was ripping off the Pixies."
BUY PIXIES SELL OUT
Buy Pixies Sell Out Now at Amazon.com for $13.99 USD
PIXIES SELL OUT
Street Date: October 4, 2005
Total Running Time: 160+ Minutes
VIDEO PREVIEWS
Wave Of Mutilation
(Quicktime) (RealPlayer) (Windows Media Player - LOW MED HI)

Monkey Gone To Heaven
(Quicktime) (RealPlayer) (Windows Media Player - LOW MED HI)

Where Is My Mind?
(Quicktime) (RealPlayer) (Windows Media Player - LOW MED HI)
SONGS PERFORMED
Main Program- Filmed in Belfort, France
Bone Machine
Wave Of Mutilation
In Heaven
Something Against You
River Euphrates
U-Mass
Bone Machine
Cactus
Ed Is Dead
I Bleed
Monkey Gone To Heaven
Hey
Levitate Me
Subbacultcha
Dead
Gouge Away
Velouria
Mr. Grieves
Crackity Jones
Broken Face
Isla De Encanta
Tame
Here Comes Your Man
The Holiday Song
Where Is My Mind?
Vamos
Wave Of Mutilation
Gigantic
BONUS PERFORMANCES
Caribou - Coachella
Here Comes Your Man - Move
Debaser - T In The Park
Gigantic - Coachella
U-Mass - Lowell, Mass
Crackity Jones - Fuji Rock, Japan
Nimrod's Son - Fuji Rock, Japan
The Holiday Song - Fuji Rock, Japan
Subbacultcha - Austin
Vamos - Austin
No. 13 Baby - Lowell
Planet Of Sound - Voodoo
Is She Weird? - Lowell, Mass
Into The White - Coachella
Where Is My Mind? - Move
Monkey Gone To Heaven - Move