Check out our newest feature. Music fans now have a resource to find what the latest CD release dates are. We allow you the user to submit CDs based on your own interest so our list of new CD releases' is a great place to discover new bands and share upcoming CD release from your favorite bands. Never say you didn't know so-and-so had a new album out because you now have a great resource. See what CD releases are coming up.

Welcome to Baileyswalk, a site by Pixies fans for Pixies fans. A source for Pixies news, tour information, discography, biography, setlists, merchandise and more...


With little knowledge of the technical aspects of making music, the Pixies somehow managed to become one of the most influential bands of the late 80's and early 90's. The Pixies weren't accomplished musicians prior to the forming of the band, but the band was creative and was willing to be different despite the lack of musical ability. They were able to make a distinctive unique sound of their own setting them apart from other bands of the 80's. Black Francis's screams combed with the girlish cute backing vocals of Kim Deal, while Joey Santiago's distinctive pop guitar riff blasted away above the solid propulsive drumming of Dave Lovering. This unique sound helped make The Pixies one of the indisputable foundations for the creation of alternative music in the early 90's.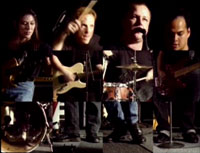 It all started when Black Francis (who was then named as Charles Michael Kitridge Thompson IV) met Joey Santiago, a Filipino guitarist who was into 70's punk music and David Bowie. Soon after that, Joey left college to form a band with Francis. They came up with the name Pixies because of their liking for the definition of that word in the dictionary as 'a mischievous imp'.
The pair posted an ad looking for "bassist who is into Husker Du and Peter, Paul and Mary". Only one person answered that ad, and she was Kim Deal. Kim used to be in a folk band with her twin sister Kelly, which once supported Steppenwolf. After Kim got married to John Murphy, her band with her twin sister was set aside temporarily. Dave Lovering was a guest at Kim Deal's wedding, and joined the band upon her recommendation. Before that, he was playing with local bands in Massachusetts.
With a steady band lineup now in place, the band began rehearsing and got a chance to be a supporting act for the band Throwing Muses. Upon seeing them play live, Gary Smith, a manager and producer offered to record the group. The band started to make an 18-song demo that came to be known as "The Purple Tape". After the demo was produced, the tape ended up in the hands of 4AD Records head Ivo Watts. Watts signed the band to 4AD. 8 songs from the demo tape were chosen as songs for the 1987 debut EP "Come On Pilgrim".
The Pixies soon recorded their first full-length album with producer Steve Albini. The album was named, "Surfer Rosa". The album became an instant college radio hit. It also made successful marks in pop charts. Before the end of 1988, the band began to record another album but this time, with producer Gil Norton. They named the third album, "Doolittle" and it was released in the spring of 1989. The album got good reviews and helped increase their popularity in the US.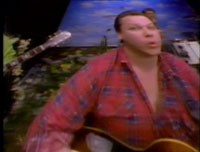 By this time, tensions between Frank Black and Kim Deal were apparent. The Breeders were reformed by Kim Deal again as her musical output for all her ideas that were left out and ignored by Black Francis.
In 1990, the Pixies went back to the studio again to record "Bossanova". It was released in the fall of 1990. The album also received good reviews and became successful in various music charts. During the course of the tour for Bossanova, tension continued. They did cancel their American Tour for that year, but even with this setback, the band regrouped again in spring of 1991 to record "Trompe Le Monde". After the release of the album, the band embarked on a world tour and in 1992, the Pixies became an opening act for U2's Zoo TV Tour. After the tour with U2, the Pixies went on hiatus. Kim Deal returned to the Breeders who then released the Safari EP. Black Francis started to record a solo album. During the post-production of Black Francis's solo-album, Francis's gave an interview announcing that the Pixies were disbanding. He then changed his name again to Frank Black. Kim Deal made the Breeders as her full-time project. While Joey Santiago formed The Martinis.
---
Black Francis (aka Frank Black)

Born Charles Michael Kittridge Thompson IV, he later changed his name to Black Francis. He attended U-Mass. He and Joey Santiago were the co-founders of the Pixies.
He decided to go into a solo career after the Pixies. Thompson released a solo self-titled debut album. His second album Teenager Of The Year, received good reviews but less commercial success.
After his third solo album(The Cult Of Ray) in 1996, Black assembled a band called The Catholics.
Kim Deal

Born on June 10, 1961 in Dayton, Ohio, USA. She married John Murphy whom she divorced in 1988.
Kim saw an ad looking for "bassist into Husker Du and Peter, Paul And Mary". She and her twin sister Kelly formed a band prior to Pixies. As a bass player for Pixies, Kim's musical ideas were often left out by Frank Black. She didn't get any enough credit for all her works with the Pixies.
In 1990, Kim formed the Breeders with Tanya Donelly(guitar) of Throwing Muses and Josephine Wiggs(bass) of Perfect Disaster. The Breeders were first intended as a side project and a musical output for Kim whose musical contributions for the Pixies were not given enough recognition.
After the break-up of the Pixies, the Breeders became a full-time project for Kim.
Joey Santiago

Joey Santiago was born in Manila, Philippines. He and his family moved to New York. Joey enrolled to U-Mass, where he met Charles Thompson (aka Black Francis). He dropped out from college to form Pixies with Charles Thompson.
After the Pixies, he formed the band called The Martinis with Linda Mallari, who is now his wife.
Joey's latest project now is making music for film and television.
Dave Lovering

Dave was introduced by Kim Deal to be the drummer for the Pixies.
After the Pixies, he joined The Martinis with Joey Santiago. Dave also worked with Nitzer Ebb on an aborted album and played with Cracker.